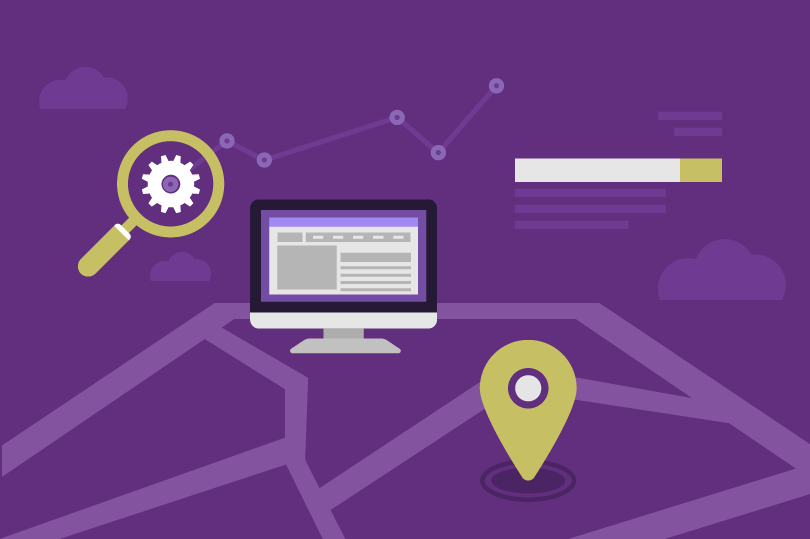 As a small business owner, you've probably heard other small business owners talk about local SEO or digital marketing. You probably said you'd think about it, and searched the Internet for resources about this SEO thing.
By then, you encountered terms like ROI, keyword research, and SERPs. And somewhere along the way, you lost interest, got confused, and put the whole marketing idea to bed. But what you probably missed in reading baffling 10-minute pieces about how Google works is that a lot of these things are simple. You're probably overwhelmed, much like many business owners when they got started in SEO.
So, what is SEO and what's the point in learning it?
 Local SEO: Search and the Modern Consumer
Search engine optimization (SEO), in general, is a spider web of on-site (website) and off-site (search engines) techniques to help your business rank higher in search engines results pages (SERPs).
Why does it matter that you rank high on search engines? Google is the reason, and the 3.5 billion queries it receives every single day. The number itself doesn't matter much, but the way people use Google does. They use it to find pretty much everything else, and that includes businesses that can serve their needs. As a small business owner, that's what SEO is for: to get in front of these people –all potential customers – for you to show that you can serve their needs.
Don't worry because the "local" part of local SEO doesn't change anything fundamentally. Local SEO is for small businesses, and is one of the marketing strategies tailored to attract local customers.
But it's not as simple as telling these people that you sell pastries, can fix their teeth, or have the latest Nikes. Other businesses are doing that too. Merely informing your market that you have a product or service isn't going to work. You need to convince them, and you can achieve that by providing all the details they need.
Answering WWWWH All at Once
People want everything all at once, especially when Googling something. They want to know what you are (business type), where you are (address), who you are (website), why you can best serve their needs (reviews), and how they can contact you (phone number). And Google is more than happy to cater to how their users do things. User behavior has also dictated Google's algorithm updates (we'll get to that later).
If it seems a bit much, think about the last time you Googled a place to eat. You probably saw a box with three ideas suggested by Google, curated based on your distance from these places, their reviews, and some previous search data. Remember that box. Remember that it had almost everything you need, and that it's easier to decide when all that information is available to you. You probably knew where to go that instant. That's the power of SEO.
All in on Mobile
Before, people relied on Yellow Pages and other directories to help them get around. They sat down, found the relevant category, looked for the nearest business of interest, found the contact number, inquired, and then they were off. In hindsight, it all sounds really taxing.
Now, that four-inch thick directory exists in smartphones the size of your wallet. And there's no going back to sitting down and taking a lot of time to find a place that serves all-day bacon. Millions of people are walking around and looking for things to buy, food to eat, and places to go. Half of mobile queries have local intent, and this figure will only grow moving forward. In addition, according to a wide-ranging survey by Google, 96% use their phones to get things done and they address their needs through a search engine.
This is why local SEO that's optimized for mobile users is an immense boon to your marketing campaign. Phones aren't just pieces of technology anymore. They're ways for people to fulfill their needs, no matter what those are. 70% of phone owners turned to their device before making a purchase, so if you're need to sell or make people aware of something, always consider mobile users.
Snack Pack, Hyperlocal, and Other Local Search Trends
In part to cater to the mobile crowd, Google modified their SERPs to make them better suited for small-screen results. Here are the three ways they transformed for smartphone users and local customers:
Local Snackpack: Serving Searchers with Snacky Bits
Google changed the way local SEO works throughout the years, and one of the most meaningful transformations they've made is the Google 3-Pack. It's more affectionately known as the local snack pack because these information snippets contain easily digestible bits of information to customers. This is the box, mentioned above, that contained suggestions for your search: the phone number, address, operation hours, and reviews that made your decision easier.
Why are snack pack results important? Imagine you're searching for a business. Would you want to bother with opening a company's website to get their email address or phone number? Often, the answer is no, and with the websites in the Philippines, it's a chore to navigate badly designed websites.
And that's why this filter is important. It gives people all the information they need, and comes with a sorting tool for ratings and hours of operation. Optimizing your business' listing information across all platforms, but particularly Google My Business (GMB), will provide Google important search signals that will help you get suggested.
Hyperlocal: More Local Than Local
Optimizing your GMB will have another purpose, and that's to serve people doing "near me" searches on Google.
People use search engines to fulfill an immediate need. They'll search for the best burrito within 1 km, who makes the best coffee within walking distance, and so on. More often than not, they add "near me" to phrases like "I want to buy," "I want to go," and "I want to do." As such, connecting with these "hyperlocal" customers is a powerful way of growing a local following for your business.
Hyperlocal marketing also exists in the same world as mobile SEO. In fact, the two are so interconnected that hyperlocal marketing can't exist without mobile SEO. With consumer behavior becoming more on-the-go than sit-down-and-research, hyperlocal-optimized landing pages allows you to cater to consumers that have intent to buy. In addition, mobile is the platform to focus on right now. So really, you're hitting two marketing birds with one strategy.
Featured Snippet: Position Zero
Google loves content that answers questions. If you create content that answers "how to," "how does," and "what is," the search engine may use your content as a featured snippet. It's also called position zero because it sits on top of the organic results.
Try to search for anything "how to" in Google, and you'll get a featured snippet that contains an answer, a "People Also Ask" box, or both.
So how do you jump your current SERP ranking to get to position zero? Identify a common question in your industry, provide a clear answer that has value beyond the question, and make it easy for Google to find your website. The last part is not a straightforward path, but with a sound campaign and sharp content, you have a chance of getting that answer placement.
Google Algorithm Updates: The One Big Factor on Your Rankings
Like what Russell Westbrook said to Kevin Durant, Google is comin'.
Google's algorithm updates define the Internet search landscape. Every marketer is hot on their tails after every roll out, and even before anything is official. But even as marketers use tools to anticipate minor and major modifications, algorithm changes always manage to shift the search game.
Pigeon Update: Snack Packs and Near Me Searches

Google Pigeon was the search engine's update that tied each search query with the nearest results. With the Pigeon, Google was looking at hundreds of ranking signals to determine who sees whom, emphasizing the need for a strong organic ranking among local businesses. They also had the ability to determine a local business' location and distance, favoring the nearest ones to the physical position of the searcher. So, adding "near me" to a search term will get the nearest businesses optimized for that search term.
But the biggest change of the Pigeon update was the snack pack results. The mass shifts lead to small businesses struggling to get local visibility. It was also evident that Google were still ironing out kinks in the update, as results fluctuated for weeks. Spam listings also made their way onto the new three-pack local results.
Possum Update: Smelly Results That Have Logic
The Possum update was focused mainly on the three-pack local results. Rolled out on September 1, 2016, Possum confused SEOs because results now included those from outside the city limits. The problem was clear: if non-local business began to invade local queries, ranking for any keyword was a moonshot. Businesses had to update their information, because if they didn't, and another business had the same address, phone number, or had a similar URL, chances are the results would cancel each other.
The physical location of the searcher was also more important than ever. The farther you were from your query, the larger the coverage of the search. More than that, if you were searching from a completely different area, you'd see the results relevant to your current location. The variation of the keyword also played a role.
The key takeaway, however, has been that Google's local filter is acting independently of their organic filter. That's why their SERPs are a little funny sometimes, showing businesses that are out of bounds of the searcher's position.
Hawk Update: All About Filtering (For Good or Bad)
The Hawk update overhauled what Possum rolled out, and it was hit-or-miss in the beginning. Many businesses were getting filtered out because other results just happened to have a similar address. Companies trying to get local exposure got a bit of a boost, but many others dropped off from the 3-pack results without a logical explanation. If you had a similar address to another business – possibly the one across the street – it was possible that only one of you would show in the results.
Google updates may not be perfect at the beginning, but the meat of these have repercussions throughout the search world. Preparation, not anticipation, will protect your rankings, or even help you get a better position after the dust settles on the algorithm changes.
What Makes You Rank (or Could Make You Tank)
Prioritizing general rank factors can make your business almost immune to tanking due to new updates. If you're already doing well on getting links and optimizing your website, don't forget these search signals to make sure you're standing strong against the tide of new Google updates:
Choosing the Right Category
Google wants you to categorize yourself properly. After all, if you want to be seen in your niche, you must put your business under that niche. That's why proper category association is one of the most important, and most basic, search signals. But since there are variations of phrases people will use to find your business, Google allows you to select nine more categories to make sure that you're appearing for similar search terms.
Physical address has been a sticking point through major Google algorithm updates, so rather than suffer tanking from future Google phenomena, update your address in every listing you have. Include the floor where your office is, the specific building number, and the street.
But if your address is still a stumbling block for your snack-pack aspirations, it's most likely that you don't have direct associations to the city you're targeting. If your business falls outside of its area, you need to establish landing pages on your websites that help you create a professional association with the city.
Perfecting On-Site Factors
Your website is your single, constant link to the SERPs, and it's only common sense that this property should be fully optimized. Here are a few ways you can tweak your website:
Mention your location in your content, to boost ranking for keywords with geo-tags.
Use your keywords in the URL to make it SEO-friendly and a little more readable.
Use images and video to dazzle visitors, leading to more time on-site and decreased bounce rate.
Spread latent semantic indexing (LSI) keywords all over the site. These are related keywords to your main search terms, and could get you extra traffic from shoulder niches of your business.
Make sure that your name, address, and phone number (NAP) is on every page.
There are other on-site methods that will boost your SEO efforts. Just remember that your website should move with the latest trends in search engines to ensure that you keep up where the traffic is coming from.

The point of social media isn't to launch the next big trend, or ride a famous meme until it's oversaturated. It's a powerful marketing tool, especially in the Philippines, where you can bank on virality, visibility, story-telling, and genuineness. Your voice reigns over everything, but your platform must allow you to maximize your social strategy.
Experts are betting big on Instagram and Facebook, where the growth of marketing has been immense. Facebook is your source of traffic, and Instagram for feedback, but you can modify your strategy in a way that best fits your goals. Take for example Taco Bell. They are fantastic at utilizing social media, which they used to create the perfectly timed product release and post near art-level posts about their offerings.
Backlinks, or links from websites that lead to your website, have always been valuable search commodities. Quantity of backlinks matter to Google, but the search engine has learned to weed out the good links from the bad ones. The key is to have a strong, white-hat (meaning fully compliant to Google's rules) link building program.
As a small business owner, you should know that link building is the most effective way to climb the search rankings. But make sure that your agency is known for getting high-quality links, which power strong SERPs rankings despite Google's numerous updates.
Local SEO Checklist
There is a lot to do in SEO, but the point has never been about doing everything. It's about getting your priorities right to address your most pressing needs without overspending.
Can't find a way for visitors to sign up to your newsletter? Prioritize your conversion strategy.
Can't convince customers to sign up for a service even if you offer a free estimate? Optimize your website's call-to-action practices to ensure that customers know how to get your free offer.
It's a step-by-step process, of course, so there's more to solving your SEO-related problems. But to help you get started, here's a beginner's checklist, with appropriate solutions, for your upcoming local SEO campaign:
Your NAP is a blanket presence in your marketing strategy. It's vital everywhere, basically. And consistency is a major make-or-break factor in your search results. You must use the same name, a unique address, and the same, functioning phone number on all your business listings, digital or physical. It's for the simple benefit of allowing people to find you. So, to avoid losing customers and search traffic, NAP consistency is key.
Optimizing Google My Business – GMB is incredibly important to local SEO. Getting your business categories right, using a unique address (one that Google won't mistake for another address), and uploading high-quality images will help you create a good impression on the right customers. GMB has added virtual tours and Google Posts, providing you with more ways to use content in your listing.
Optimizing for Other Listings – GMB is the dominant listing in SEO, but don't forget that people are on several platforms and that these properties are hot on Google's tails. Sites like Facebook Local, Bing Places, Yelp, and Foursquare should complete your critical listing platforms. Do the same thing you do for GMB: put your business under the right niches, use a unique address, and take advantage of people's hunger for multimedia.
Optimizing for Your Website –Nothing could be worse than messing up your own name, address, or phone number on your own website. Always check that your NAP is accurate everywhere in your site, in your blog, newsletter blast, and so on.
Local Structured Data Mark-Up
Schema markup is a form of microdata that is critical to SEO. It's a result of collaboration among Google, Bing, Yahoo, and Yandex to help you provide data for their search engines. It's basically code to add in your HTML (the language of web pages) to enhance your page's SERPs results.
This is a good example of a website with a schema markup, and one that doesn't. The first link has several snippets that include reviews, date information, and the meta description. The second is just a meta description, and a less than optimal one at that. Experts agree that the richer the snippets are, the better your click-through rate will be.
But as a small business owner, you're probably too busy running your enterprise to learn code. This is a webmaster's territory, and he/she knows how to optimize your HTML to integrate your schema markup.
Reviews are the life blood of the public's reaction. If reviews about your business are positive, then you'll have more customers. Get bad reviews, and they're just about the worst things to deal with, sometimes requiring some major online reputation management. But legitimate reviews are important to your customers and vital to your page's SERP results.
To get a genuine appraisal of your service, sign up for Google Verified Customer Reviews. This is a more trustworthy method of getting authentic feedback from paying customers. Once you're verified, you'll be able to send customers who made a purchase a review link through an email. Make it worth their time by offering incentives, following up with a personal email, and responding to their review.
It takes extra work on your part, but this is an important part of your overall search friendliness and online credibility.
Vital to Your Customers – It's already been established that people turn to their phones, and search engines, before making a purchase. So, you must know that reviews are the perfect hook to an already interested customer. They establish that you're a top business, that you're worth your customer's money.
Vital to Google – Google uses reviews to improve your organic listing, so the more reviews you get the better. Rest assured that Google are improving their methods of weeding out bad/inaccurate reviews, so you can be sure that what's on display on the SERPs or the snack pack box is honest feedback.
And that concludes your primer to local SEO. Most businesses in the Philippines don't yet know the full extent of benefits of having a dedicated marketing campaign. So, when the opportunity arises to learn more about SEO and actually prosper with it, consider this a golden ticket to entrepreneurial success.
It's a long road from SERPs wilderness to the Top 10s, but it's all worth it for your business. You can get started yourself or with the help of an agency. Either way, the important thing is that you know of a way to gain more visibility and a greater chance for success in your business venture.